The prince of Broadway
'Phantom' director says he was born at just the right time
By Marcus Crowder -- Bee Theater Critic
(Published 8:37 a.m. PST Monday, Jun. 3, 2002)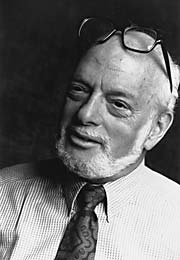 Director Hal Prince says the romantic "Phantom of the Opera" is so popular with audiences because "It's very hard to find romantic musicals."
Elisabeth Novick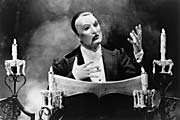 Brad Little stars as the Phantom in the touring production of "The Phantom of the Opera," opening Wednesday in Sacramento.
Joan Marcus
"This is it!" veteran Broadway director Harold Prince stated emphatically. "I'm living the life I dreamed of having and that's pretty swell."
Prince has been a significant creative force in theater for the last 40 years, directing and producing musicals that have earned him a record 19 Tony Awards. Prince has directed or produced such memorable Broadway shows as "The Pajama Game," "Damn Yankees," "West Side Story," "Cabaret" and "Kiss of the Spider Woman."
Many of Prince's awards came through his long-standing collaborations with composers Stephen Sondheim ("A Little Night Music," "Company," "Follies," "Pacific Overtures" and "Sweeney Todd') and Andrew Lloyd Webber ("Evita").
Prince also is the director of Lloyd Webber's "The Phantom of the Opera," which opens Wednesday in the Community Center Theater, the third Sacramento run of the phenomenally successful musical.
Prince said the reason audiences keep coming to see "Phantom" is simple.
"It's very romantic and it's very hard to find romantic musicals. The last absolutely, unabashedly romantic musical on Broadway was, believe it or not, 'South Pacific.' That was 1948 and ('Phantom') was 1986. That's a long time."
Prince also believes that theater's uniqueness is its attraction.
"I love theater that is larger than life," he said. "And that you put something on a stage that you can't put anywhere else. Not the same way."
Though Prince allows he couldn't have scripted his life much better, he said that timing has been everything.
"Both Steve (Sondheim) and I are very aware, we talk about it quite a lot, that we were born just in time. Ten years earlier would have been even better, but 10 years later would have been very difficult."
The changes in how art and entertainment reach audiences are the reasons he feels he was born just in time.
"I started as a stage manager in 1948," he said. "There was a lot more theater activity then. There was television when I started, but it was the early days of television. There were always movie stars. But more important than those encroachments and all the cable and other stuff we have now was that theater, Broadway theater, had a kind of sheen that made it glamorous for people. Some of the glamour that existed then for stage people now exists for TV stars."
Prince suggested that theater actors just don't have the cache that today's much more well-known television actors do.
"So now you see television stars playing in the West End (the London theater district), and you see them playing on Broadway and even off-Broadway," Prince said.
But the origins of production money have had even more of an impact in the way Broadway looks at its material.
"Costs have so escalated that the source of production money is now coming from larger and larger fortunes -- individual fortunes or corporate fortunes," Prince explained. "So there's a much bigger tendency today to have producing by committee and producing from people who can afford to pay to see their names over the title of a play rather than the people who used to produce, who -- in the '30s, '40s, even early '50s -- were creative producers... Perhaps they couldn't direct or act or write, but they could network with the people who could do those things."
Though Prince didn't name them explicitly, he was referring to large entertainment corporations such as Disney and Clear Channel which have become major forces on Broadway.
"Now we have investors and demographics," he explained.
"They're corporate investors and everything is, 'What will the return be at the box office?' Everything I'm saying to you applies to movies, too, and it absolutely has diluted the quality of so much work."
Prince added that not-for-profit theater and regional theaters have taken up some of the slack. He said those theaters have continued to push the art form forward in ways which are not necessarily based on the greatest possible fiscal return.
"There are always shining lights who hang on to artistic priorities and keep creating, but it's hard. There is this constant encroachment of demographics and branding.
"There's another factor, which is music," he continued.
"Music in the musical theater was the popular music of our time in this country and elsewhere. Then it ceased to be. Rock music took over and with it the absence of coherent lyrics, generally, that can advance a plot or inform a character. So our music now is largely not popular music. There is the odd song by Lloyd Webber or Sondheim, "Send In the Clowns" for example, but by and large our theater music does not reflect what popular taste is."
That, Prince said, has turned out to be a creative advantage, "because we no longer had to think of popular music as a measuring rod, and we also wanted to provide something on the stage that you could not get elsewhere. You can't get 'Phantom of the Opera' elsewhere. You can't get 'Sweeney Todd' elsewhere. So it was sort of a nice evolutionary move to continue providing us with audiences and to continue to keep us working."
Prince also said many New York theater professionals believe that corporate thinking affects voting for the Tony Awards (which will be presented tonight; see accompanying story on Page 5).
"It has been said," Prince continued, "that (out of town voters) pick things that they think will travel and appeal to road audiences. That's all well and good, but it does not reflect artistic taste. We are now in the throes of an orgy of revivals. Well, I would submit that we'll have nothing to revive if we don't come up with some new material."
Prince said he is concerned about the future of theater and where the next theater professionals will come from.
"I'm old enough and lucky enough to have been around for quite a long time, and I share with my colleagues -- and I speak of Sondheim, and (John) Kander and (Fred) Ebb -- a huge responsibility as to what that next generation is going to be."
Prince referred to a project he worked on last year in Los Angeles in which he helped stage three one-act musicals.
"Three composers, three book writers, three choreographers and one old director -- me. The other two directors were very young. We put them on, we got a swell review."
He added that the practical reason for his involvement in the project was to help the young artists find an audience, and even more importantly, find work.
"I know all these talents, why aren't they in theaters where people can see them? I thought, how can I introduce a lot of them in one night? Now all three of those composers are off and running.
"I went to producers and said, 'Why don't we bring these to Broadway?' All these producers asked 'How do you brand it?' And I said, 'Oh, boy.' And of course it didn't happen."
There has always been a mentorship tradition in theater which Prince feels he was lucky to be a part of. He said that knowledge has to keep being passed down.
"When I started, I mentored to George Abbott, and there were a good dozen other directors who I might have worked with, though none more valuable than George. Sondheim mentored with Oscar Hammerstein. Can you think of better mentors? I have interns on every show I do now."
Prince worked with Carol Burnett and her daughter Carrie Hamilton (who died in January) on the play "Hollywood Arms," based on Burnett's memoirs, at the Goodman Theater in Chicago. The show is scheduled to debut on Broadway in the fall. Prince also is working on a new Sondheim musical and another musical with a young composer.
"I'm acting like I'm always going to be here, which I suppose is good for my brain," he said, laughing.
---
About the Writer
---------------------------
The Bee's Marcus Crowder can be reached at (916) 321-1120 or mcrowder@sacbee.com.